Directory
Staff Biographies
Cary Clarke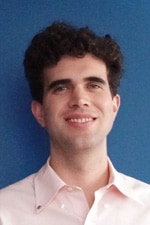 Mr. Clarke has been a dedicated champion of the arts, education, and community throughout his career. He served youth and their families as an English Language Learners (ELL) educator in East Portland's Parkrose School District and, as co-founder and co-director of nonprofit organization PDX Pop Now!, he worked to broaden young people's participation in and access to Portland's thriving music community.
Most recently, Mr. Clarke was the Arts & Culture Policy Director for the City of Portland in the Office of former Mayor Sam Adams, where he managed partnerships with local school districts, the Regional Arts & Culture Council, independent artists and arts organizations. He oversaw major initiatives including the creation of a dedicated public fund for arts education and access, and the implementation of an equity initiative to ensure that the full diversity of Portlanders receive the benefits of the arts in their communities. Mr. Clarke is a musician who has recorded and toured nationally, is fluent in Russian, and holds a B.A. from Yale University.
Fidel Devera
As a young boy from the Philippines, Fidel Devera was fascinated by the place called United States, based on the Reader's Digest copies he read. Since then, the allure to go to "this place with lots of snow" became a dream. He learned to speak English in Grade 1, a skill that was polished by Australian and British teachers during high school years. Fidel graduated from Jose Rizal University with a degree in Accounting. He was a Philippine Certified Public Accountant. In his senior year, he interned with the World Bank's MASICAP project that helped small and medium start-up entrepreneurs. This was followed by his first post-college job as Analyst for Small Business Advisory Centers, also a World Bank project. He then worked for Procter & Gamble Philippines as Senior EDP/Internal Audit Manager. This job fulfilled his US dream after attending a conference in 1985 at his company's Cincinnati headquarters. After a brief stint with Avon Cosmetics Philippines in the 90's (Note: Fidel strongly denies performing make-ups), he decided to go to USA for good in 1999. In the US, he worked for General Motors and T-Mobile, before, shifting career in the non-profit world as his way of giving back to the community. Fidel has various certifications in QuickBooks, has a 4th Degree with Knights of Columbus and is currently in quest for his Distinguished Toastmaster title with Toastmasters International.
Santigie Fofana-Dura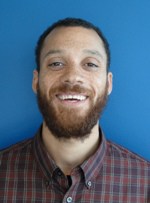 Santigie Fofana-Dura, Arts- Integration Coach, is directly responsible for facilitating relationships between Right Brain schools and Teaching Artists. This includes organizing and leading residency planning meetings, documentation, and reflection meetings. Santigie has been working with K-12 students as a teacher, leader and mentor for about ten years in the Portland metro area. He is a former Right Brain teaching artist and his two highly successful residencies demonstrated that he has a clear understanding for what arts-integration looks like at its best.
He has taught various creative recreational classes around Portland including skateboarding, parkour, illustration, animation, soccer, and songwriting. In 2012, the Multnomah Youth Commission honored Santigie with the "Youth Champion Award" for his work with youth in East Portland. His knowledge and understanding of the creative process as well as the education system makes him a good fit as an arts integration coach. His resume also includes teaching jobs for various organizations including Portland Parks and Recreation, My Voice Music, Caldera, and the Oregon College of Art and Craft.
Santigie identifies himself as a lifelong learner and has spent a considerable amount of time in the education system earning his first degree in sociology from Santa Clara University. After working with youth for several years he ultimately realized how much education really meant to him and went on to earn his MAT from Concordia in Portland as well as an MFA in collaborative-design from the Pacific Northwest College of Art. Santigie serves many schools in the Hillsboro School District including: Groner, Imlay, Lenox, Minter Bridge, North Plains, and West Union as well as Welches and Naas in the Oregon Trail School District.

Jonathan Frochtzwajg
As our grants coordinator, Jonathan Frochtzwajg connects foundations, businesses, and other arts-learning supporters with opportunities to invest in Young Audiences' work. Prior to joining YA, he served as grants coordinator for the local-music organization PDX Pop Now!. He is also an independent journalist. Originally from Los Angeles, Jonathan moved to Portland in 2005 to attend Lewis & Clark College, where he earned a bachelor's in sociology. Today, he runs a lot and secretly tries to write plays.
Josephine Kuever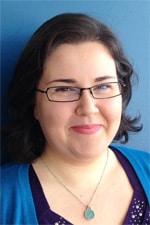 Music has been an important part of Josephine's life from an early age, starting with violin and then classical voice. She received her Bachelor's of Music in Vocal Performance from The Boston Conservatory and a Master's in Arts Administration and Certificate in Nonprofit Management from the University of Oregon. While she is originally from Northern California, Oregon has been her home for the past eight years.
As Program Operations Manager, Josephine assists over 200 schools each year with their arts planning and scheduling needs, manages the organization's database, and develops efficient systems to support Young Audiences' programs.
Briana Linden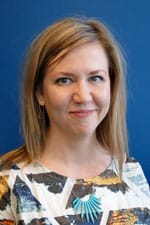 Briana Linden, a Portland, Oregon native, has worked in regional non-profits since 1997 including the Oregon Zoo, Portland Art Museum, Artists Repertory Theatre and as director of Blue Sky/Oregon Center for the Photographic Arts; prior to that she was a preschool teacher. Briana's first role at Young Audiences was visioning and implementing The Right Brain Initiative.
As Programs Director for Young Audiences, Briana oversees the artists and programs that bring regional students arts-rich learning experiences. She is responsible for the evolution of existing programming, development of new programming and the evaluation of both. She also manages teaching artist and classroom teacher professional development including the Teaching Artist Studio, an inquiry-based professional development program designed for teaching artists where the creative process is front and center as artists examine and articulate what lives at the heart of how and what they teach.
Briana received her bachelor's of fine arts with a focus on works on paper from Marylhurst University in 2005. A practicing artist, Briana works in encaustic, printmaking, drawing and photography. She and her husband spend as much time as possible out in the rich, lush Northwest landscape with their son Jasper and daughter Astrid, and all the rest of their time in the kitchen whipping up feasts drawn from their prolific garden.

Lin Lucas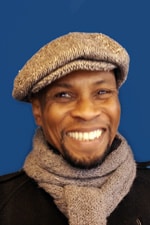 Lin Lucas is a visual and performing artist who specializes in comics and butoh respectively. Lin has a BA in elementary education from Western Washington University and has taught students K – Adult for a variety of schools and community arts organizations in the Seattle since 1996. Lin served as the Diversity Coordinator for Northwest School from 2005 -2010. He has engaged social justice and equity based trainings with National Association of Independent Schools, The National Coalition Building Institute, Red Cross, Facing History and Ourselves, and Seattle Race & Social Justice Initiative.
Allie Maya
Allie is filling in as the interim Programs Assistant and comes to us after having worked as the Program Coordinator with The Right Brain Initiative for 3 years. She holds a BA in Art History, and is passionate about many kinds of art, but photography especially. While not in the office, you can find Allie tromping around Portland with her one year old son, experiencing all that this great city has to offer.
Maia McCarthy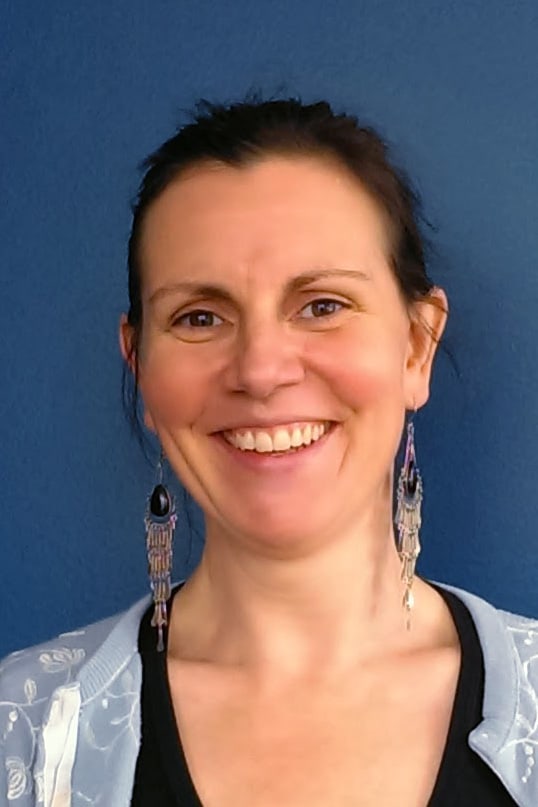 Maia McCarthy, Arts Integration Coach, has worked as an actress, writer, teaching artist and teacher trainer. Maia had an "aha" moment as an educator when she realized she tapped the same skills working on a theatrical production that she used when training teachers toward excellent, value-based, culturally relevant teaching practices. Maia believes that all quality arts and educational experiences are borne from challenging and collaborative relationships founded on shared values and playful inquiry. Maia has worked with organizations such as Seattle Children's Theatre, The French American School of Puget Sound, and Profile Theatre in Portland. Most recently Maia spent 7 years with Growing Seeds Learning Community, the last four as the school's Director. She received her degree BFA in Acting, with a minor in Literature from NYU. Maia works with Highland and Kelly Creek in the Gresham Barlow School District, Spring Mountain and Sunnyside in the N. Clackamas School District, Minter Bridge and WL Henry in the Hillsboro School District, and Naas in the Oregon Trail School District.
Nikki Pham
Nikki Pham, Office Manager for Young Audiences, is a Portland native. They participated in Run for the Arts growing up and credits their life's opportunities to early and consistent exposure to the arts.  Nikki studied dance and theatre in the Portland Metro area as a youth, earned a bachelor of arts in dance choreography with a double major in environmental studies from Sweet Briar College, and is a former youth dance instructor in studio and classroom settings.
Nikki is well versed in the practice of Office Management in a variety of settings including dance education, small businesses, and corporations. They are passionate about helping team members achieve their goals by providing efficient administrative assistance, and innovating solutions to improve productivity. Nikki's most recent experience includes Director of Receptionist Services of Ruby Receptionists Inc, whose model of encouraging philanthropy inspired Nikki to become more directly involved with the causes they care the most about—arts education!
Catherine Hayes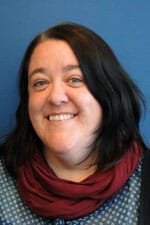 Catherine is an accomplished fundraiser in the political and non-profit arenas. Her track record of success includes holding a still-unbroken fundraising record in an Oregon statewide election. Catherine is passionate about connecting businesses, individuals and foundations with with the causes they care about to inspire growth and positive change. She brings over 15 years of experience in major gift solicitation, corporate engagement, direct response fundraising and event planning to her work at Young Audiences, where she directs fundraising strategy to increase program capacity. In her free time, Catherine fulfills her duties as professional assistant to Checkers Hayes, her incredibly adorable canine adopted from the Oregon Humane Society.
Kristi Riedel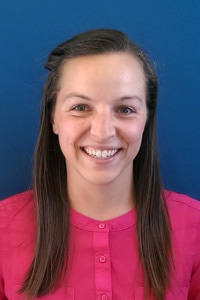 Kristi Riedel, the Community Engagement Manager for Young Audiences, is a Portland native with a great love for exploring other parts of the world.
Her career has focused on arts education in many different forms. She has been an administrator of arts outreach programs and a camp director for the Portland Children's Museum. She has been a teaching artist, bringing materials into local schools to integrate them into the classroom, and running workshops with other community organizations. Clay is her favorite medium both in teaching and in her own art.
She is an outdoor enthusiast and tries to spend as much time in the woods as she can while enabling others to do the same.


Emily Stone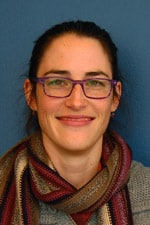 Emily Stone, Implementation Assistant, is a multidisciplinary artist whose work is situated on the threshold of dance, theater, and visual arts. While she has been a performing artist and educator for nearly 20 years, Emily recently earned her MFA in Interdisciplinary Art with a focus in experiential education from Goddard College. Professionally, her collaboratively devised projects have been presented by experimental theaters, contemporary art galleries, new dance, video and time-based art festivals, academic conferences and colleges throughout the Northwest. As an experienced arts educator, she has worked with pre-K/12 students in a wide variety of settings — in the classroom, onstage and backstage at numerous children's theaters, and outdoors in wilderness therapy programs. Most recently, Emily has served as drama specialist for the Oregon Episcopal School and the Opal School at the Children's Museum. She's an active parent volunteer at Abernethy Elementary in PPS, where her two daughters attend their neighborhood public school.
Kim Strelchun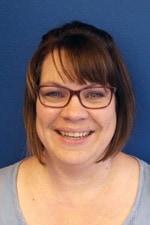 Kim Strelchun, Arts Integration Coach, has devoted the last 15 years to education and arts advocacy. Kim gains her inspiration from her children Ali and Lucas who opened her eyes to the power of arts integration. She has worked closely with parents and educators in her roles as Parent Director at Creative Children's Center, Team Coordinator at Stand for Children, PTA President and Hillsboro School District Board Member. In her free time, she enjoys fusing glass, spending time with her family and watching live theatre. She received a BS in Social Sciences/Political Science from Portland State University. After volunteering with the Right Brain Initiative for six years as a Parent Advocate, Kim joins our team as the coach for Clackamas River and Eagle Creek in the Estacada School District, Chief Joseph Ockley Green and Vernon in the Portland Public Schools and Deep Creek Damascus, East Gresham, Hogan Cedars, Hall and Kelly Creek in the Gresham Barlow School District.