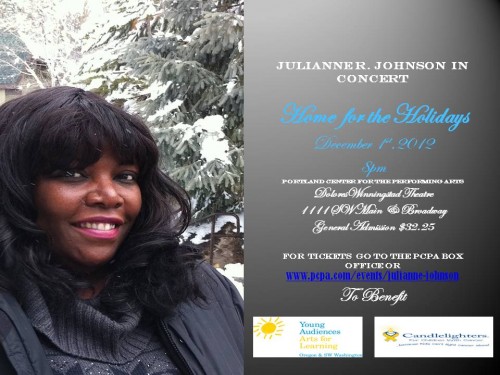 Believe in the season and you will feel the warmth coming from JULIANNE R. JOHNSON as she caresses you with her voice in Home for the Holidays- a concert to benefit us, 
Young Audiences of Oregon and SW Washington
, and 
Candlelighters For Children with Cancer
.  The concert will be in the Winningstad Theatre at the Portland Center for the Performing Arts (PCPA) on Saturday, December 1, 2012 at 8:00PM.
Her musical guests this year bring a youthful zeal to traditional holiday music. High School a capella artists Altotude, under the direction of Carl Jeppeson, give a new twist to some standard holiday fare. Julianne directs Portland Community College vocal ensembles, The Sisters in Survival Chorus and Vancouver Avenue First Baptist Mass Choir (the choir where Julianne began her journey four decades ago). This collective group will lend the power of close to 80+ voices to the grand finale. Expect a few surprises, a few tears and lots of laughter, while raising  needed funds for the arts in schools and the support for children and families dealing with cancer.  It's really all about the kids!
Joined by Janice Scroggins, Celebration and a kicking band, the whole family may see this as a nod to the christmas specials we've known and loved, but Julianne just considers this the chance to believe in miracles, angels, and the Christmas Spirit of giving.  If you loved Andy Williams"Sleighride and Bing Crosby"s Do You Hear What I Hear, you will want to share the evening with Julianne as she brings you soulfully, Home for the Holidays.
source: PCPA and Julianne Johnson
Find more like this: Press