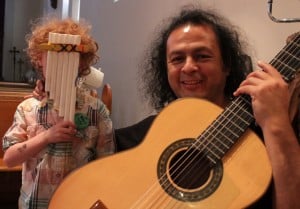 I first met Gerardo Calderon in 2008 while working on a production at Portland's Miracle Theater. The show, Dos Pueblos, was a collaboration between Portland-based Hand2Mouth and a group of theater artists from Mexico City, and Gerardo was our musical linchpin. Not only was he the perfect go-between, with first–hand knowledge of life in Mexico City and in Portland, but his demeanor and immense talents earned him huge fans from both sides of the border.
In addition to his work in the theater, as a Music Therapist, and as a performer with his own music projects, Gerardo has taught with Young Audiences since 1993 (!!!) and leads Grupo Condor, a touring folk music ensemble that embodies traditional musical styles of all of Spanish-speaking America. Joined by Samuel Beccera (percussion, flutes and vocals) and Nelda Reyes (percussion), Grupo Condor's music focuses on the blend of Spanish, African, and Native American influences that  create this truly multicultural art form.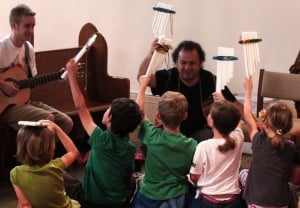 How does Oregon inspire your art making? Oregon inspires for its trees, mountains, rivers…its beauty.
What fuels your creative practice? What fuels me is the love I have for the music and the necessity I feel for sharing what I know to everyone, especially children.
If you could be any animal, what would you be? A hummingbird.
What is one of your earliest art memories? One of my earliest art memories was a trip to the pyramids in Teotihuacan, Mexico. I was about 6 years old, when I saw the pyramids I thought they were a total art beauty. I was trying to figure out how long it took to the Aztecs to build and carved the pyramids.
What's the best thing about being a Young Audiences teaching artist? One of the best things about being a YA artist is that I have been able to reach out a lot of children. Knowing that I'm leaving part of me, part of my art to some kids makes me feel good.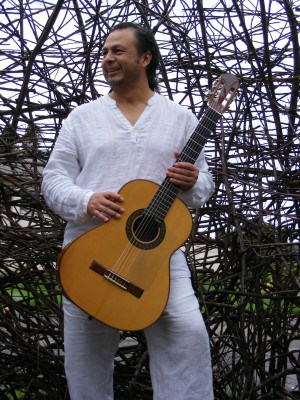 Why is art important to kids? Art is pretty much everything not just for kids but, for everybody. Art is a form of expression therefore, children have to have a way to express themselves while they are growing up and beyond. It should be mandatory for everybody to have an art class.
What teacher or artist was inspirational to you as a kid? My dad was one of the most influential people in my musical career. I grew up listening to my Dad singing love songs to my Mom, almost every day. I thought that was the coolest thing. He supported my curiosity for music, he bought me my first guitar.
Who is your art hero now? I have many art heroes now, I can't choose one but, if I have to choose one will be John McLaughlin. One of the greatest guitar player of all times.
What is a favorite memory of creating or performing? I have a memory that I always think about. A while ago Grupo Condor played in a elementary school in Hermiston in eastern Oregon. There were a mix of children, some Mexicans, some Native Indians and some Caucasians. For some reason the Mexican children were very shy and they didn't even want to talk. After we play the first song and introduced ourselves I looked at the Mexican children and they had their eyes wide open, They could not believed we spoke Spanish. So I made a little speech about how important it is to be proud of where we come from and that's ok if we speak more than one language, it is a plus. After my speech everybody applaud, teachers, students, everybody. It was one of most important days in my life as a professional musician. My little Mexican children's faces changed. After the performance they came to us and talked in Spanish with no fear in their eyes.
If you weren't an artist, what would you be? I always like to travel. I would be a traveler.

Find more on Grupo Condor – including music, calendars, and study guides – here. And keep your eyes peeled for a brand new book & CD project Legend of Mexico, a bi-lingual project from Gerardo and Nelda Reyes.