New York, NY — Young Audiences Arts for Learning is proud to announce National Young Audiences Arts for Learning Week (National YA Week). National YA Week will celebrate the many contributions Young Audiences Arts for Learning has made to schools nationwide through its arts in education programs. "National YA Week emphasizes the strength of the National Young Audiences Arts for Learning network and their remarkable collective impact on arts in education" states David A. Dik, YA's National Executive Director.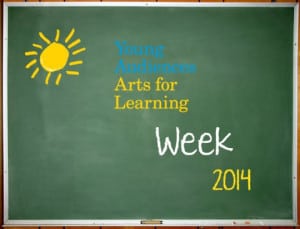 YA affiliates will celebrate National YA Week in their own community, working to raise awareness for arts and education initiatives in schools and community venues through public programming, special events, and long-term residencies. It will be observed around the country by 18 Young Audiences affiliates in 18 states. It is estimated that more than 35,000 students will be participating in a Young Audiences Arts for Learning program during this week. Highlights include an early education residency performance in New York City; free public presentations of programming in Richmond, Virginia; and a Conference in Connecticut with the theme of creating statewide opportunities with artists with disabilities.
For more than 60 years, Young Audiences Arts for Learning (YA) has inspired young people and sought to expand their learning through the arts. Founded in 1952, YA works to support affiliated organizations that are each dedicated to playing a decisive role in young people's development. Last year, the YA network of 30 affiliates reached 5 million children in over 6,000 schools and community centers with 85,000 performance demonstrations, workshops, and teacher services. This year, Young Audiences of Louisiana opened the very first Young Audiences Charter School, and we continued our work around the network in the media and digital arts through programs like Immersive Game Design in Wichita, Cleveland, and Indiana. These programs teach students to design and produce their own fully-functional digital games and inspire them to harness the power of technology for learning and creating.
The participating Young Audiences affiliates are:
Arts for Learning, Connecticut
Arts for Learning, Miami, Florida
Center for Arts Inspired Learning, Ohio
Chicago Arts Partnerships in Education, Chicago, Illinois
Gateway to the Arts, Pittsburg, Pennsylvania
Young Audiences New Jersey & Eastern Pennsylvania
Young Audiences of Massachusetts
Young Audiences of Oregon & SW Washington
Young Audiences of Northeast Texas
Young Audiences of Northern California
Young Audiences of Rochester, New York
Young Audiences of San Diego, California
Young Audiences of Western New York
Woodruff Arts Center, Atlanta, Georgia
Find more like this: Advocacy, Press , Young Audiences National