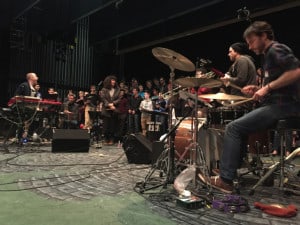 School music classes are special.  It's hard to imagine a more potent formula for shaping identity or building community than the hours our students spend playing the fight song in the stands or rehearsing for the upcoming concert.  By the time a student walks in the front door for the first rehearsal, however, so many decisions have already been made: the music has been written, the venue has been booked, the performers have all been selected, and the concert has been publicized.
This year, we've broken down the fourth wall in order to show Camas High School choir students what music means to their community and the broader economy.  Young Audiences has sponsored classroom visits by various professionals: a talent buyer, a journalist, a publicist, a record label executive, a tour manager, and a composer, among others.  Students get to see not only how music is made but how money is made in the world of music.  They've been involved in planning this performance tonight, by writing a press release, picking our opening acts, selecting a poster design, and learning about sound design.  We've even taken this show on tour, to see what life as a touring musician is like (the answer: exhausting!).
And, people have noticed! Check out the press coverage of the upcoming concert;
Oregon Public Broadcasting: Portland's AU Returns With Sprawling Choral Project
The Columbian: Camas High Choir, Portland Rockers Collaborate
Camas-Washougal Post-Record: Learning the Business of Music
We invite you to be a part of this brilliant collaboration by joining AU and the Camas High School Choir with special musical guests Luz Elena Mendoza and Edna Vazquez at their concert on April 15 at 7 pm in Portland at Yale Union Building (800 SE 10th Avenue). Tickets are $10 in advance and $12 the day of the concert.
We hope to see you there, and please be sure to read the student written press release below.
THE FOLLOWING PRESS RELEASE WAS WRITTEN BY CAMAS HIGH'S MADDIE BERTALOT AND ANDREW HENSON.
From the creative depths of Portland, Oregon, experimental pop artist Luke Wyland (AU) has joined forces with the 155 teenage vocal powerhouses of the award-winning Camas High School choir to create an atmosphere of pure energy. The goal: To combine music genres in a way that had never been done before. Pop? Classical? Rock? Choral? You decide. Working closely with the teens from Camas, Wyland has combined classical and experimental pop sounds to introduce the world to something entirely new and explosive.
Collaborating with widely respected choral director Ethan Chessin of Camas High School and his many skilled students, Luke Wyland and his alternative band AU have created an experience unlike any other. We're not going to ask you to close your eyes, as that would stop you from reading this. But imagine 155 15 to 18 year-olds sharing the stage with a driving rock band as the sun sets on the horizon of Portland, filling Yale Union with earth-shattering harmonies that warm the soul and create a beat that the pulse of your heart will race to match.
The Joined Voices program aims to build a bridge between the community and local schools, and to familiarize students with the process of collaborating with songwriters to perform original music. Last year's concert featured Portland composer/songwriter Alan Singley in collaboration with Camas students. This year's show will feature many new and unique ideas that all come together under the umbrella of astonishing brilliance. In addition to the music program, Wyland and Chessin put together a year-long "business of music" curriculum, teaching students about all aspects of the music industry from organizing a concert to writing this press release.
From student singer-songwriters that are debuting for the first time, to Portland rockers with international tours under their belts. From music that has never been heard before to the classics. Yin and yang will collide on one stage to bring a once-in-a-lifetime show to bright and vivid life. That, ladies and gentlemen is the concert that is taking place April 15. We hope to see you there.
OTHER POINTS OF INTEREST:
Friday, April 15, show at 7 pm
:30
Yale Union, 800 SE 10th Ave, Portland, OR 97214
All ages
Edna Vazquez & Luz Elena Mendoza will open, also joined by the 155-voice choir.
The show will also feature student bands and songwriters from Camas High School.
AU with members of Like A Villain, Blue Cranes, Aan, and the Crenshaw
The Camas High School choir program has earned praise around the Northwest for its engaging performances of unique, diverse repertoire, including collaborations with local musicians SAMA DAMS, Alan Singley, Point Juncture, WA, and more.
Collaboration with local non-profit, Young Audiences.
Find more like this: Events, Uncategorized , Featured Post, Music