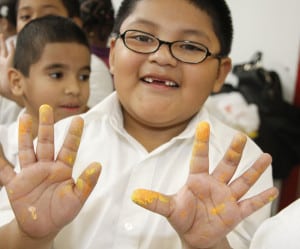 The school year has ended and summer has begun which is a good reminder that it's time to share the results of your generosity. This year, your compassionate commitment to arts education made it possible for us to serve more students, create new programs, and, in the artistic tradition, take risks. Thank you!
Core Programs
Your support provided 2,967 programs in 188 schools and community organizations to reach 72,230 students. This includes 2,041 multi-session residencies; 598 single, impactful workshops; and 328 engaging performances in a variety of artistic disciplines.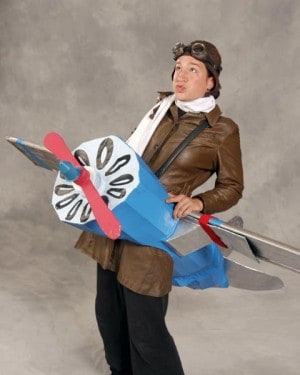 Core Programs by Discipline
Dance – 492
Literary Arts – 126
Media Arts – 88
Music – 752
Theater – 557
Visual Arts – 952
All of Young Audiences' in-school programs are taught by professional teaching artists from our selective, 153-member roster.
Young Audiences' teaching artists come in and bring their world to us. – Andrea Guthrie 1st grade teacher Hope Chinese Charter School
As a result of outreach efforts targeting Title I schools, our core programs reached 29,315 underserved young people this school year. This was also the second year of our Arts at Kairos program, which serves students at KairosPDX, a public charter school dedicated to eliminating the racial achievement gap. Providing the school's K-1st grade students with an extended residency—10 sessions versus the normal 4-5—Arts at Kairos helps our organization understand what it means to more deeply serve students with deeper arts needs.
Run for the Arts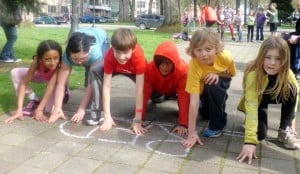 Young Audiences' Run for the Arts service marked its 38th year of helping schools put on simple, effective jog-a-thons to raise their own arts funds.
The 2015-16 school year was another successful one for the Run, with more than 26,000 students at 57 schools raising a total of over $662,000 to support arts programs in their classrooms.
I have to say, that I work a lot with Run for the Arts and Young Audiences, and it's just a great organization. Every time I call I get my answers right away. The support has been incredible. I feel like it's one of the few organizations left that's all about kids and all about helping schools. – Buckman Elementary Principal
This year also saw exciting improvements to Run for the Arts, including the piloting of an online donation platform and the launch of the Run for the Arts Equity Fund, which will create greater parity in arts funding among participating schools.
Professional Development
In 2015-16, Young Audiences helped more than 400 teachers and teaching artists become more effective arts educators through our professional-development programs.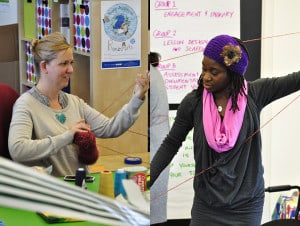 Our signature program for teachers, Arts for Learning (A4L), trains classroom teachers in an arts-integrated literacy curriculum that harnesses the power of the arts to boost reading and writing skills. Designed with learning experts at the University of Washington, the A4L curriculum has been shown to positively impact the literacy and life skills of many students—especially English Language Learners. From 2010-2015, with support from the U.S. Department of Education, YA rolled out A4L to every 3rd-5th grade classroom in the Beaverton School District. Student outcomes were so positive that the district allocated its own funds to continue the program in the 2015-16 school year, serving 342 teachers and 9,100 students. Building on that success, YA implemented A4L at a Portland Public Schools site, Lewis Elementary, and the program is now poised to bring its potent literacy-learning model to other schools and districts.
I appreciated the opportunity, even though we all grumble as adults when we're forced to get up and do things, but to actually do what you're expecting your students to do… That was really helpful – Beaverton School District Arts for Learning Teacher
The Teaching Artist Studio (TA Studio), YA's three-year-old professional-development program for teaching artists, expanded statewide in 2015-16. Partnering with Lane Arts Council, Arts Central, and Art Center East, we brought workshops and other programming to nearly 30 teaching artists outside the Portland area while fostering collaboration among Oregon's teaching-artist programs. In Portland, the TA Studio served 19 teaching artists through the core, multi-session course, and 15 more via workshops on topics such as arts integration and classroom management. As the only in-depth, teaching artist­–focused professional-development program in Oregon, the TA Studio is addressing the critical need for training for this fast-emerging field of arts educators.
21st-Century Initiatives
Young Audiences is responding to a growing demand for programs that prepare students for 21st-century work and life with a slate of innovative STEAM (Science, Technology, Engineering, Arts & Design, and Math) and career-readiness initiatives.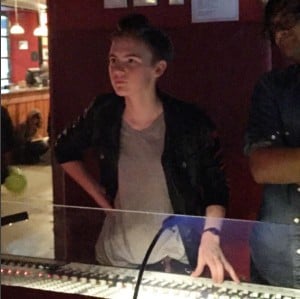 Piloted last spring, Live Sound Engineering for Teens (Live SET) provides professional training in sound engineering for disadvantaged high-schoolers. Participants learn about the art, tech, and science of sound engineering in hands-on classes, then cap their experience by engineering a public concert. In 2015-16, the program served two dozen students and grew to include an advanced course for previous program graduates. Live SET addresses our community's need for youth technical-arts training, giving participants the opportunity to develop marketable skills and connect with professional mentors. At the same time, it has successfully extended Young Audiences' reach into several new areas, including the high-school age group and out-of-school programming.
The skills, the knowledge, and the passion gained from attending Live SET have forever changed my life. – Myra
The Mobile Creativity Lab is a developing program that will utilize a mobile iPad library to bring technology-enhanced arts residencies to underserved middle-school students. As STEM turns to STEAM—incorporating an "A" in recognition of the key role art and design play in fostering innovation—educators are hungry for programming that creatively links the arts, technology, and other subject areas. However, the cost of the equipment needed to deliver such programming is prohibitive. The Mobile Creativity Lab aims to solve this problem by making a set of 35 arts-equipped tablets available to schools and teaching artists and supporting the development of tablet-based arts residencies. In 2015-16, YA set the stage for this exciting new project by acquiring the devices (with support from the Mt. Hood Cable Regulatory Commission) and beginning residency-development with three teaching artists selected from our roster.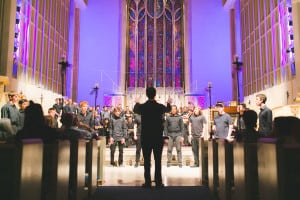 The 2015-16 school year found YA in a unique partnership with Camas High School—one that proved to be the perfect showcase for Young Audiences' capacity to fruitfully connect artists with students. Over the course of the year, the Camas High choir collaborated with a local composer selected by YA, Luke Wyland, to create an original choral work, performing the final piece at a packed public concert in Portland. (The choir will reprise the work this fall at the prestigious Time-Based Art Festival.) Meanwhile, choir students learned about the wide variety of careers in the music industry (e.g., talent-buying, production, touring) through a YA-curated series of guest speakers. We are exploring bringing this successful program model to another site in the coming school year.
This whole process has been really cool and I really liked it. I don't want it to end, ever – Camas High School Choir Student
Equity
Young Audiences elevated equity to an organizational priority in 2013, recognizing that in order to maximize our impact, we must focus our resources where they are most needed. We know that students of color have less access to arts education than their white peers, and that the benefits of arts-learning experiences—from improved literacy to higher graduation rates—are actually greater for low-income students. Given this information, approaching our mission and work with a focus on underserved youth simply makes good sense.
I had a student with a severe physical disability and she ended up playing a lead role in our residency performance. That was magical. – Shuhe, Young Audiences Teaching Artist
In 2015-16, YA followed through on its commitment to equity in a number of important ways. We launched an outreach campaign to bring our in-school programs to more students at low-income schools. We also established the Run for the Arts Equity Fund to address the sharp disparities in arts funding that exist among our region's schools. Equity continued to be an integral component of our newer initiatives: for instance, applicants from underserved communities received priority in participant selection for our Live SET and TA Studio programs.
This critical work is taking place within our organization as well. We are working diligently to diversify our board and staff, improve our collection of demographic information from, and recruit more underrepresented teaching artists in order to ensure that YA evolves along with our community.
Thank you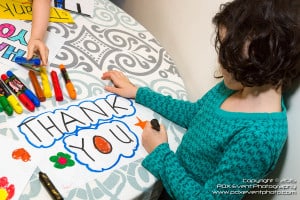 Your generosity was clearly felt throughout our community in 2015-16. It not only brought the arts into tens of thousands of children's classrooms over the school year—it also strengthened arts education in Oregon and SW Washington by helping schools, teachers, and teaching artists provide more—and more powerful—arts-learning experiences. You made it possible for students across our region to experience the inspiration and improved learning that come from having art in school. On behalf of the Young Audiences board and staff—as well as the schools, teachers, teaching artists, parents, and children we serve—we extend our deep gratitude for your support and partnership. Thank you!
Thank you for supporting Young Audiences! In 2nd grade, we did a puppet show. It was very fun! It was the best thing we did all year. I was the leopard. – 3rd grade student, Ainsworth Elementary
Find more like this: Uncategorized , arts for learning, Featured Post, Music, Professional Development, Run For The Arts, Teaching Artist