"I learned to be brave, to act in front of other people, to step up there and know I'll be fine"
– Emily, 4th-grader talking about her experience with Young Audiences Teaching Artist Anne Rutherford

Think back to when you were in school: is there a dance performance, music class, or painting lesson that stands out? It's often easy to remember the experience of goose bumps that come from art, music and dance.
Arts education empowers students to achieve success in school and in life. Research shows that students involved in the arts are:
Four times more likely to be recognized for academic achievement
Three times more likely to win an award for school attendance
Four times more likely to win an award for writing an essay or poem
The advantages don't end there – arts education can actually improve SAT scores by an average of 92 points!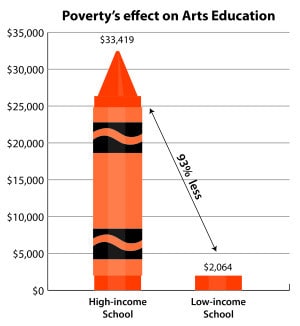 But funding for arts-enriched education isn't equitable in all cases, and so we've established the Young Audiences Run for the Arts Equity Fund. This fund will support schools where a majority of students are living in poverty.
Consider this: a Portland area school with a student poverty rate of less than 6% raised more than $33,000 in its Run for the Arts this year. Another school with a poverty rate above 86% raised only $2,064 – 93% less.
The students at the second school are not 93% less deserving of arts education, and they aren't 93% less likely to find joy in learning through the arts.
Please, consider investing $25, $50, $100 or even $500 in our Equity Fund. Your investment will provide schools in high-poverty neighborhoods the arts funding they need to succeed in school and in life. That means music lessons, dance performances, paint brushes and more for the students in our community who need it most.

Your gift to the Young Audiences Run for the Arts Equity Fund will mean a lot to children living in poverty. When low-income students get the benefit of arts education, their high school graduations rates are five times higher!
Your compassionate support for our Equity Fund will have a lasting impact on the community we share.
Together, we're inspiring young people and expanding their learning through the arts!
Find more like this: Advocacy, Run For The Arts , Equity, Featured Post, Run For The Arts