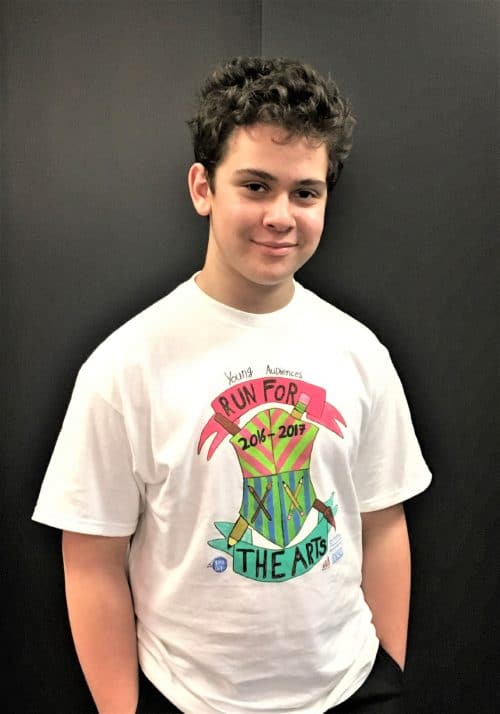 Young Audiences has been facilitating Run for the Arts jog-a-thon fundraisers in schools throughout Oregon and SW Washington since 1977 giving decades of students a tangible way to support their arts education. Though many things have changed over the years, one constant is the revered Run for the Arts t-shirt and student art competition.
Each year, one talented student's work is chosen to represent Run for the Arts at every school. This school year, our featured student artist is 12 year old Ash Ginsberg. I recently sat down with Ash to learn more about him as an artist.
Ash is not afraid of a little danger to his art forms. On the day we met, he had just come from an after school blacksmith class through Trackers where students learn at a real forge using fire, hammer and anvil to shape metal. They learn to flatten, twist, bend and punch hot metal in order to create art and tools like the work seen here.
"It's really cool." he says "Its a real 3-D thing that you make, which is hard to do drawing on paper. Its fun to make a thing you can actually use."
Ash is fairly new to metal-smithing, and his main focus lately has been pyrography, or woodburning. His "studio" at this point is a camping pad and a flat space in front of his home where he can set up with his tools.
Ash is fascinated by professional pyrography artists including a friend of his family whose work involves fine focused lines, shading and complex shapes. His goal for his own work is to go beyond simple lines and learn how to use space and shading.
And of course we know that Ash likes to draw. He is currently trying to fill a sketchbook given to him on his visit to MEK Designs where met the designer who did the Run for the Arts design work. Ash's drawings are often surreal and combinations of real things put together to make something new.
Like many artists, Ash often includes ideas from his daily life and immediate surroundings in his work. The idea for the Run for the Artsdrawing came from the Hogwarts house crest.
"While I was drawing, my teacher was reading the third Harry Potter book. I knew I was going to be part of the contest so I thought I would draw what was on my mind."
He decided the crest would be a good design for a t-shirt because it is clear. He also liked the idea that it would feel ancient, or classic. But his drawing almost didn't make it into the contest at all. "It's a funny story, actually," he explains. "I had been working on it for a while and I left the drawing in my desk because I wasn't done. When I came back to my desk the drawing was gone." Luckily Ash thought to check the recycling bin where someone had accidentally tossed his drawing, and though it was a little bit wrinkled, he was able to salvage the crest in time for the contest. 
We are all lucky that he found his drawing. Thank you Ash for sharing your artistic talents with us.
Do you know an amazing student artist who should know about this competition? Let us know! (youngaudiences@ya-or.org) We will make sure you are on our email list. We will take submissions for next year's design starting in  May of this year.
Do you know a school who would benefit from an arts specific fund raiser? Spring Run for the Arts sign up is available now. Check it out.
Find more like this: Run For The Arts, Uncategorized , Featured Post, Run For The Arts, T-Shirt Design Contest