Associate Board Member and Gala Sponsorship Chair, Eva Goldfarb, visited an Imago performance at Arleta Elementary. Read her Story from the Field below;
BY EVA GOLDFARB: Arriving at Arleta, I met up with Young Audience Development Director, Catherine Hayes and a few members of the board who were all eager to see how their hard work translated to young Portland students. Imago did not disappoint.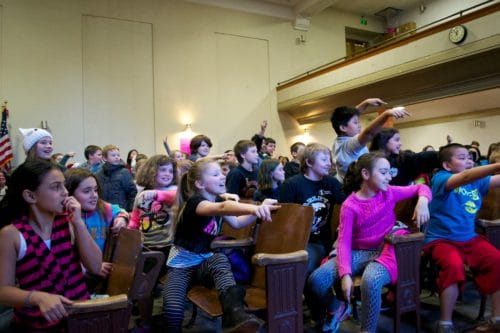 Imago brings Broadway to the schools in their modified performance of FROGZ ensured to delight students of all ages. The kids at Arleta School were all but jumping out of their seats to get a better look at the Imago magic. The array of characters introduced fostered creativity, participation and laughter.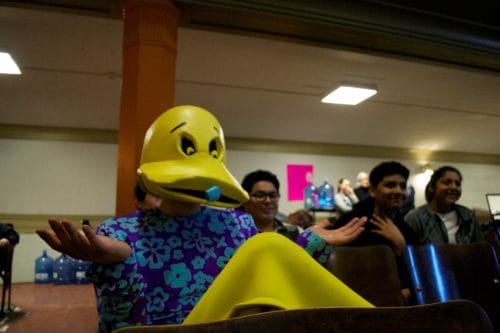 The Imago troupe of dancing frogs, plaid-clad hippos, witty ducks, and morphing blobs do not restrict themselves to auditorium stage. Performers prioritized interacting with the audience; giving kids high-fives, sitting in a chair attempting to blend in, or choosing participants to come up on stage.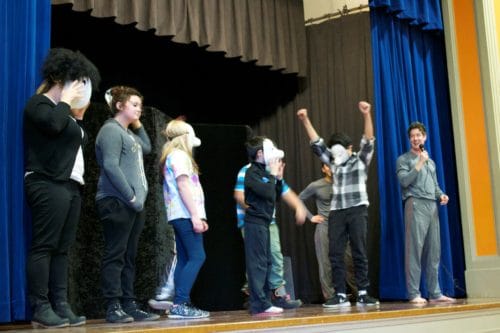 The show was concluded with a Q&A allowing students to ask the actors questions about the different costumes and masks. From start to finish, Imago was a truly entertaining performance that captivated the attention and joy of all the students there to see it.
Are you interested in writing a story from the field? Contact Kristi Riedel at kristi@ya-or.org to learn more.
Find more like this: Uncategorized , Arleta Elementary, Featured Post, Imago, Joy, Performance, Theater