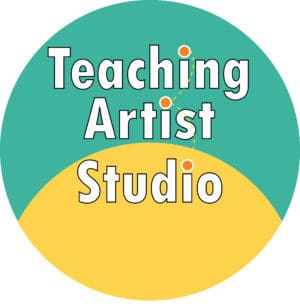 Navigation
What is the TA Studio?
Are you an artist just starting out in your teaching? Are you a mentor for youth via the arts? Are you an experienced teaching artists looking to refresh your practice? The Teaching Artist Studio is for you.
The Teaching Artist Studio (TA Studio) is a professional development program for teaching artists in Oregon and SW Washington. We work with artists from all disciplines and media—performing, visual, literary, digital, and more. But what is a teaching artist?
There's not one definition, but a teaching artist (TA) is a two-career professional: an artist and an educator. Eric Booth has said, "A teaching artist is a practicing professional artist with the complementary skills and sensibilities of an educator, who engages people in learning experiences in, through, and about the arts."

In this program, participants ranging in experience from emerging to established will dive deep into their teaching practice. They will examine the elements at the heart of their teaching: the what, the why, and the how. Through an experiential model of observation, analysis, and application, participants will identify effective teaching strategies and assessment models. All participants will work to refine existing curriculum or to design and pilot new curriculum.
Because we believe the arts are an essential component to a young person's complete education, we offer this professional development program in the arts community to empower and embolden teaching artists. Our assumption is that when we build the strength and capacity of our teaching artists, we will also increase the quality of their impact on students' lives and education.
We practice these values
Studio Mindset:

a laboratory to make, explore, risk, analyze and innovate

Equity:

investigating and naming the privileges, complicities, and disparities based on race, ethnicity, national origin, gender, gender identity, sexual orientation, class, disability status, geography, age, and other forms of bias and oppression that are resident in our selves, our society and our institutions, and that prohibit a learning

atmosphere

Cross-disciplinary Methodology:

Hands-on learning in many forms offers unique insights and experiences for deeper, richer understanding of the process of teaching.

A teaching artist can better empathize with their students if they, too, experience the beginner's mind i

n other art forms.

Empowerment:

Teaching artists are an important part of the comprehensive education system, and they need access to resources and community to work their best.
The Teaching Artist Studio outcomes include:
Methods for creating clear and engaging lesson plans
The ability to develop big ideas in your art form into learning goals for your students
Strategies for identifying what your students leave your class knowing and thinking
A greater capacity to address the needs of diverse learners and populations
Effective classroom facilitation skills that encourage rich learning environments
Skills to build fuller partnerships with the schools and students you work with
Increased awareness of and alignment to educational standards and language such as Common Core State Standards, National Core Art Standards, etc.
Increased confidence in teaching artistry through investigation, practice, analysis, and communication with peers
Ability to collect strong documentation of student learning and growth as a result of their art experience
Strengthened personal connection to the field of teaching artistry regionally and nationally

Program Testimonials

"This experience was amazing! I was challenged in ways I never imagined. The skills and tools I take away will forever impact my ability and confidence as an effective teaching artist."

"Very well organized and led to give us real skills, connect us with other TA's, and give us confidence. Every step was modeled and explained. We participated and played and discussed."

"I feel like this experience helped me make the leap from teacher to teaching artist."

"I was particularly struck at how thinking about the teaching itself in creative/art terms illuminated the usual tasks of assessment and lesson-planning and classroom management. It all felt more free and light-hearted in a way that makes these daunting, strict tasks feel way more accessible and in my personal wheelhouse."

"Learning through community. Having multiple minds engaged helped to bring different perspectives to each of the subjects and helped me find a comfortable place with each of them."

"I've learned a lot of new strategies that I believe will help me to better articulate my goals and ideas for my students and also my stakeholders. I have a better idea of what scaffolding looks like and I also feel affirmed that some of my practices are moving in the right direction."

"This was an amazing workshop! I don't have words to describe how great it was to learn from all my peers, the connection that we made, and all the new knowledge I received. I feel more confident as a Teaching Artist and how to create a more engage and fun lesson."

"The most useful thing I will take away from the program is how to approach creating a lesson. I learned not only how to be an effective teaching artist, but also how to assess and reflect upon the art making."




Who Should Apply?

You should apply for the 2019–20 TA Studio if:

You work actively as an artist (performing, visual, literary, digital…) and are interested in developing the complementary skills, curiosities, and habits of mind of an educator in order to reach students more effectively.

You wish for additional strategies to gauge the impact of your work. We often hear from Teaching Artists,

"I wish I knew what kids were really getting out of our work together."

 We'll explore multiple ways of documenting and assessing the development of students' art making and critical thinking skills.

You believe in creating a safe and inclusive environment for all students in your classroom and would like to learn more tools in order to do so.

You want to connect with other Teaching Artists in our community for an exchange of ideas, strategies, and perspectives.

You can commit to the 2019–20 TA Studio schedule

, including attendance of  both intensive and workshop dates, homework assignments and small group meetings outside of class time.

The TA Studio emphasizes building skills in lesson design, facilitation, assessment, and articulate collaboration with school partners. Please note this professional development does not focus on finding work, marketing of your teaching work, or similar economic concerns; nor is it an application to be on the YA roster.

Cost

Due to the generous support of private and public funders, more than 70% of the tuition costs have been subsidized, and the tuition cost for this half-year professional development program is only $350.00.

Scholarships are available (ranging from 50%-100%) to ensure we meet the needs of all of our communities. Please note that the number of scholarships is limited. Contact tony@ya-or.org with any questions.

How do I apply?


Submit an online Application form by 5:00 pm July 22, 2019. The form will contain both short answer and narrative questions. You will also be asked to attach the following (.doc or .pdf format):

Resume

 – 

Include artistic, teaching and work experience. Maximum two pages.
Sample Lesson Description – How you would structure a single 40-50 minute lesson? Please be sure to include the age you are creating the lesson for, the goals you have, the activities you plan to do, and anything else that helps us understand how you think about organizing this learning experience. Maximum three pages.

If you have any questions about these document requests, please email tony@ya-or.org for assistance.

How will participants be chosen?

Participants will be selected using the following criteria:

Commitment to working as a teaching artist, as defined above. The length of time as a teaching artist is not as important as a clear passion for working with youth in your medium.

A clear interest in professional growth and development as a teaching artist.

Interest in working in a collaborative community of learners.

Ability to attend the entire intensive, three workshops, and final meeting day.

Attention will be given to identifying a cohort of teaching artists from varied media and experience levels as well as representation from multiple arts organizations, programs and diverse racial and cultural backgrounds.

Organizational Support

If you are an arts/cultural organization and would like a workshop for just your staff of teaching artists, contact us for a consultation.

Teaching Artist Studio Core Facilitators

Tony Fuemmeler co-founded the Teaching Artist Studio at Young Audiences in 2013 to address the needs of artists working as educators. His own practice as a teaching artist began at In the Heart of The Beast in Minneapolis, MN, where he was working as an AmeriCorps volunteer. Subsequently, his teaching work has included arts-integrated residencies for multiple grade levels in both Portland and New York City Public Schools as well as after-school classes and theatre summer camps for multiple arts organizations and community centers around the country. Tony is a guest instructor in mask theatre at Dell'Arte International and also offers skills-based workshops for college students and professionals. He worked as a roster artist, program consultant, and Operations Committee member for the Right Brain Initiative. Tony has also taught workshops for educators at the Portland Art Museum, the Right Brain Initiative, Arts Center East, Lane Arts Council, and Teach For India in Pune, India.

Artistically, Tony is a mask maker, puppeteer, and director, and he uses both visual and performing arts in his practice. He creates performance masks for multiple companies and productions across the country, and trains actors in mask performance. In addition to creating original shadow and object puppetry with Simple Machines, Tony has also puppeteered for Tears of Joy and for multiple artists at HERE Arts Center in New York City.

Tony currently works as the Professional Development Coordinator for YA.

Subashini Ganesan is an artist, arts administrator, and the Creative Laureate of Portland. As an artist, Ganesan founded Natya Leela Academy where she choreographs and performs potent and universally relevant expressions in Bharathatyam. Since 2008 has received multiple Regional Arts & Culture Council Grants. She often collaborates with local choreographers like Mike Barber (Founder, Ten Tiny Dances) and Michelle Fujii (UNIT SOUZOU). Her works are often showcased at local & regional festivals including PICA's annual Time-Based Art Festival, Conduit's Dance+, Ten Tiny Dances Beaverton, NW Folk Life Festival, & the Salem Library's "World of Music."

As the Founder and Executive Director of New Expressive Works (N.E.W.) she stewards a vibrant performing arts venue in Portland, that celebrates and supports multicultural independent performing artists to teach, be in residency, and create bold new works. Since inception in 2012, N.E.W. has been grounded in equity and access driving artistic expression and excellence. N.E.W.'s positive and uplifting programming provides equal access to and visibility for diverse art-forms. N.E.W. is also the home to an intensive urban residency program that annually offers 8 choreographers 6 months of free rehearsal space, a modest stipend, and a culminating performance opportunity to showcase their new creations. N.E.W. and its founder Subashini Ganesan are honored to have received RACC's 2018 Juice! Award and White Bird's 2019 Community Engagement Award, for making affordable space possible to artists and arts organizations.

Ganesan serves as a Community Advisory Committee member of the Interstate Firehouse Cultural Center's (IFCC) and as a Board of Director for the James F. & Marion L. Miller Foundation. She is also a member of the Teacher Advisory Council of the Portland Art Museum. As the Creative Laureate of Portland, Ganesan serves as the official ambassador for the broader creative community in Portland.




Briana Linden co-founded the Teaching Artist Studio in 2013, grounded in the conviction that teaching artists illuminate children's thinking and ideas, and are catalysts for positive change. It's because of this that teaching artists are at the heart of her personal mission, to ignite a love of learning in children and their communities. Briana is a firm believer in arts-rich instruction as a way to engage all learners, rooted in the idea that every child deserves creative and dynamic access to learning.

Briana has worked with regional non-profits since 1997 including the Portland Art Museum, Oregon Zoo, Artists Repertory Theatre and as director of Blue Sky/Oregon Center for the Photographic Arts; prior to that she was a preschool teacher. Briana's first role at Young Audiences was visioning, launching and implementing The Right Brain Initiative; she was most recently Director of Programs, in which she was responsible for the evolution of existing programming, development of new programming and the evaluation of both. She now consults to bring Teaching Artist Studio to teaching artists and communities all over Oregon. In addition to TA Studio, Briana works across the state as an arts education consultant, facilitator and educator.

Briana received her bachelor's of fine arts with a focus on works on paper from Marylhurst University in 2005. She was on the board of directors for Art in the Pearl for 5 years, and co-owner and an exhibiting artist for Waterstone Gallery from 2006-2009. A practicing artist, Briana works in visual art mediums such as encaustic, printmaking, drawing and photography. She also founded Motherist, a social practice experiment for working artist mothers and their children.

Guest Facilitators include individuals from

:

Portland Art Museum

Portland and Beaverton Public Schools

Teaching Artists from the Young Audiences roster

Acknowledgements

This project is supported in part by an award from the National Endowment for the Arts. To find out more about how National Endowment for the Arts grants impact individuals and communities, visit www.arts.gov. 
Contact
Please contact Tony Fuemmeler ( tony@ya-or.org or 503-225-5900 ext. 227) with any questions about the TA Studio or application process.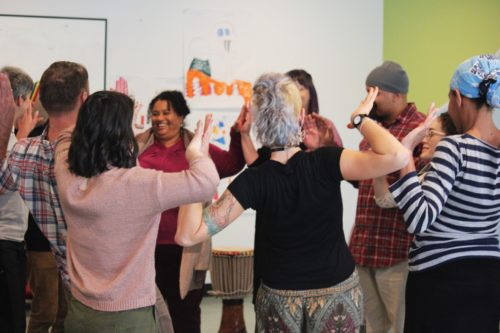 –
Navigation
TA Studio: Values and Outcomes