TSHIRT DESIGN CONTEST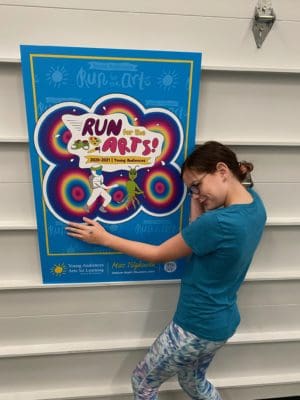 Over the last 43 years, Young Audiences R/Fun for the Arts has helped schools secure nearly $18 million dollars for arts experiences and has become an established Northwest tradition. One of the most exciting parts of this tradition is the yearly student-designed T-shirt and printed materials.
Your student's artwork could be featured on thousands of shirts, posters and sponsor sheets.
Designs should incorporate themes and images relating to Young Audiences Fun for the Arts, including a variety of art forms (theater, music, dance, etc.), physical activity, and community.
Submissions for the 2021–2022 school year are due August 13, 2021 and may be mailed to our office or emailed to koko@ya-or.org.
All K-12 students in Oregon and SW Washington are eligible to submit a design.
Finalists will be announced on Young Audiences' social media platforms.
One winner will receive a prize of $350, their design on T-shirts, posters and promotional materials, and the chance to work with a real graphic designer.
Formulario de inscripción y reglas (Español)
If you have any questions about this year's t-shirt design contest, please contact Koko at koko@ya-or.org