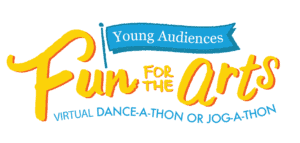 Spring 2021 Dates: March 10 – April 23
Registration Deadline: February 8th
Like everything else this school year, Young Audiences' bi-annual Run for the Arts event will look a little different this time around. Fun for the Arts, our new safe and inclusive remote event format, brings exciting new possibilities to the table!
Spring 2021 Virtual Events: Fun for the Arts!
This spring, Fun for the Arts will include a virtual dance-a-thon hosted by Decimus Yarbrough, professional Hip Hop performer, choreographer and educator. Students will collect sponsors to raise funds toward a dedicated arts spending account for their school (art programs, supplies, field trips, teacher professional development).
Events Hosted by Young Audiences
Each school can choose a date and time between March 10th and April 23rd for their event. As always, Young Audiences (YA) will provide structure and support every step of the way! This year, YA will also host dance-a-thon events via Zoom and led by YA teaching artist, Decimus Yarbrough.
We provide resources, timelines and pre-written email templates you can use to help spread the word about this adapted event.
How Measuring Activity Will Work
This season we are measuring by minutes active instead of jog-a-thon laps. Each event is 30 minutes long, so students can complete a maximum of 30 minutes active.
Donations: Online and Offline
We have set up our online donation site so that guardians can record "offline donations" (i.e. checks and cash). This will help to create a more comprehensive remote view for prize tracking, and avoids the need for paper pledge sheets, which may not be practical with students being remote. However, we recognize that the online donation site is not accessible to all students, and we will have paper pledge sheets available by request.
Please note: recording offline donations on the website is just for tracking. Cash and checks will still need to be collected by the school, and all cash converted into a check before sending to us.
Registration Deadline: February 8th 2021
Benefits for Participating Schools
Event Support:
Young Audiences provides all the materials needed to make the event happen, including a secure online donation platform, emails for families, and promotional materials. Each school selects one person to coordinate, and a designated YA staff member will assist and guide your coordinator with management of the event.
Online Donation Platform:
Young Audiences' specialized fundraising website allows students to register and collect donations online. For an individual school, the cost of this resource would be prohibitive, but as part of the Fun for the Arts community, you have access to this site at no additional charge. Schools have seen an average growth of 15% when they adopt the online platform. See the website in action here.
Prizes & Incentives:
Young Audiences produces incentive prizes for students, including the perennially popular Fun for the Arts t-shirt designed by a different student each year, with artwork selected through an open submission process.
Support Materials in Multiple Languages:
Fun for the Arts materials are available in both English and Spanish. Family letters are also available in Russian, Chinese, Somali, Japanese, and Vietnamese.
A Well-Known and Trusted Organization:
Run for the Arts–currently adapted for safety and inclusivity as Fun for the Arts–has been a Portland area tradition since 1977, and has helped schools raise over $18 million since its launch. For many who grew up here, Run for the Arts brings back fond memories of a fun and meaningful school event.
Student & Family Engagement:
Students and families play an active role in strengthening the arts as a community resource and educational tool at your school.
5% discount on programs:
All Fun for the Arts schools receive a five percent discount on Young Audiences artist programs booked during the school year that their event takes place.
How Does It Work?
Young Audiences provides detailed instructions, promotional materials, motivational prizes, guidance, and support. Schools sign up, find an on-site coordinator (usually a PE classroom teacher or parent volunteer), choose a day to hold their Fun for the Arts event, and distribute materials to students.
Students collect pledges from family, friends, and neighbors, and they participate in the virtual dance-a-thon or jog-a-thon with their classmates on a day chosen by their school. Later, students collect pledge money based on the total number of minutes active (up to 30 minutes).
The money collected by Fun for the Arts is put into an individual school account at Young Audiences. Your school can spend those funds on Young Audiences arts offerings, other arts programming, arts field trips, arts supplies, or arts-related professional development* at your school. Money raised through Fun for the Arts event can be used to pay for any art form, including music, dance, theater, spoken word, and visual arts of all kinds.
For every dollar a school raises, Young Audiences retains just seven cents (7%) to cover administrative and material costs. For example, if your school raises $3,000 through Fun For The Arts, Young Audiences keeps $210 to cover prizes, printing expenses, online credit card fees, and support, leaving you with $2,790 for arts programs and supplies.
Holding a Fun for the Arts event for your school ensures that the arts will be an integral part of the school year.
*Processing fees apply. Please see the Guide to Using Your Funds for more information.
Who Can Participate?
All public and private schools in Oregon & SW Washington are eligible.
Where is the Fun?
Each school has the option to hold their own jog-a-thon or participate in the YA-hosted dance-a-thon. In past years, schools have held jog-a-thon events in their school fields, around the school building, in a park, or around the block. The YA-hosted dance-a-thon will take place over Zoom.
When is the Fun?
Spring Fun: March 10 to mid-April 23
Fall Funs: Early October to mid-November
I still have questions, who should I talk to?
Email Koko Olszewski at koko@ya-or.org
Registration Deadline: February 5th 2021